VALOR Deep South Championship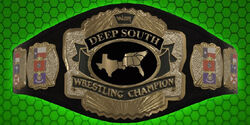 The VALOR Deep South Championship promotional picture.
Details

The VALOR Deep South Championship is the middle-tier championship created and promoted by the American professional wrestling promotion VALOR. The inaugural champion was announced to be coronated at VALOR 6 in a match between Robin Storm & Rev Caliber.
The first champion is Robin Storm, who defeated Rev Caliber at VALOR 6 to become the inaugural champion. He is also the final champion, as the title was retired on October 28th, 2017.
Title history
#
Wrestler
Event
Date
Reign
In Days
Successful defenses
Robin Storm
VALOR 6
Memphis, Tennessee

June 3, 2017

148
0. defeated Rev Caliber in a decision match for the vacant championship.