VALOR Cruiserweight Championship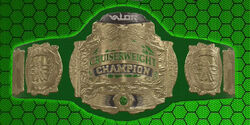 The VALOR Cruiserweight Championship promotional picture.
Details
Current Champion(s)
ARIK
Date Won

April 21, 2017

Promotion(s)
VALOR Wrestling
Date Established

April 21, 2017

Statistics
First champion(s)
ARIK
Longest reign
ARIK (190 days)
Shortest reign
ARIK (190 days)

The VALOR Cruiserweight Championship is the lightweight championship created and promoted by the American professional wrestling promotion VALOR. The inaugural champion was announced to be coronated at IGNITE 2017 in a match between ARIK & El Miedo, both making impressive debuts for the division in the leading weeks.
The first champion is Arik, who defeated El Miedo at IGNITE 2017 to become the inaugural champion. He is also the final champion, as the title was retired on October 28th, 2017.
Title history
#
Wrestler
Event
Date
Reign
In Days
Successful defenses
ARIK
IGNITE 2017
Atlanta, Georgia

April 21, 2017

190+
0. defeated El Miedo in a decision match for the vacant championship.
1. defeated Calvin Carter on June 2nd, 2017
Ad blocker interference detected!
Wikia is a free-to-use site that makes money from advertising. We have a modified experience for viewers using ad blockers

Wikia is not accessible if you've made further modifications. Remove the custom ad blocker rule(s) and the page will load as expected.