MISERA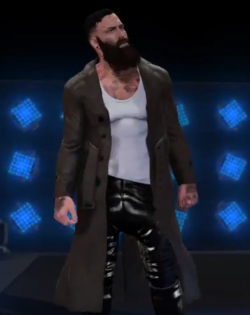 MISERA in May 2017
Birth name
Damian Noah Osteros
Born
September 2, 1986
Phoenix, Arizona
Resides
Paradise Valley, Arizona
Professional wrestling career
Ring name(s)
MISERA
Damian MISERA
Height
6 ft 3 in (1.93 m)
Weight
220 lb (99 kg)
Billed from
Phoenix, Arizona
Trained By
Robbie Scott's Gym
Team Sityodtong
TITLE Boxing Club Ahwatukee
Debut
2007
Damian Noah Osteros (born September 2, 1986) is an American professional wrestler and mixed martial arts artist, better known by his ring name MISERA. He is currently signed to VALOR Wrestling where he is set to debut at VALOR X.
Osteros began his professional wrestling career on the American independent circuit, primarily with Global Wrestling Association (GWA), where he was invited by his cousin Anthony Wheeler. Throughout his indepedent career, Osteros won several championships including three World Championships.
After returning from training in Team Sityodtong in Pattaya, Thailand in April 2017, Osteros would show more "full contact" strikes in his arsenal. He has also implemented his knowledge in the basics of Lethwei Boxing and expanded on his abilities in Muay Thai during his training in Robbie Scott's Gym, which came to be a strong foundation in his wrestling style, often referred to as shoot style.
Early life
MISERA was born and raised in Phoenix, Arizona. He attended the Green Way High School in Phoenix, Arizona, where he was an amateur kickboxer competing at national level, compiling a record of 9-1 with 4 knockouts as an amateur, until he graduated in 2003.
After graduating, MISERA joined TITLE Boxing Club Ahwatukee in Phoenix, Arizona, where he was an assistant coach in Muay Thai until he left in 2007.
Professional wrestling career
Training in Saitama (2007)
Osteros' first venture into professional wrestling was an international MMA tournament in 2006 in Saitama, Japan, that he was invited to after compiling a record of 9-1 as an amateur mixed martial arts artist. The tournament consisted of mixed martial arts artist and professional wrestlers from all over the world.
After two victories, he was eliminated by the much older and more experienced Jared Yoshida (later known as "Warhawk"), who landed a clean knee strike to the head, which left Osteros down for the 10 count. After watching the rest of the tournament on the side, Osters was enlisted by Alex Stryder to have training sessions with him, Warhawk and Prince Strider, who later came to be known as NAHMO.
Osteros and NAHMO would soon become training partners due to their similarities in weight and MMA experience. The duo would be booked in Project Survivor, which is an annual arcade-inspired wrestling show, where Osteros would fall short after NAHMO hit a superkick to a kneeling Osteros.
Independent scene (2007 – 2011)
The new Robbie Scott's Gym
Following the passing of Robert Scottson in 2007 and the reopening of Robbie Scott's Gym, MISERA joined the new RSG. MISERA, however, left RSG without graduating due to an incident with a fellow student.
Global Wrestling Association
Follwing RSG in England, Osteros would return to the US where he would be invited by his cousin
Anthony Wheeler
to a try-out match at
Global Wrestling Association
(GWA). Osteros would defeat
Collin Skyfire
in an unaired
dark match
, which would later be made out to be his try-out match, although the contract was long ready to be signed, according to Wheeler. MISERA made his TV debut in the 2008
Contract in the Case
match, replacing the injured
Jake Storm
. Although coming up short in the CitC match, MISERA would soon after claim the
Platinum Championship
at the annual
Collision Course
live event. As champion, MISERA retained the title in matches against opponents such as Collin Skyfire,
D2V2
and
Bustah
, giving himself the nickname "The New Retro" due to his successful defenses against GWA originals.
When Hall of Famer Jake Storm returned from his injury in May 2008, he defeated MISERA for the Platinum Championship, leaving him with two broken ribs due to a series of unprotected powerbombs to the ringside area. MISERA would return 2 months later at GWA's tag team series as Jonny D's mystery partner. Although being eliminated by Jake Storm and Cody Storm, the duo would continue to be a tag team. In October 2008 Jonny D was released from GWA, which resulted in MISERA taking time off from GWA.
All Original Wrestling
After an extended break from the scene, MISERA, alongside fellow GWA wrestler Jonny D, Zack Blake and Anthony Wheeler, made his All Original Wrestling (AOW) debut during a dark match on the first episode. After making his TV debut a few weeks later, MISERA and Jonny D would renovate their tag team. A few weeks later, MISERA would recommend Sonny Stark to AOW, which resulted in Stark's signing. MISERA would take Stark under his and D's wing, managing him in singles competition and having him on the side during tag team matches. The tag team of MISERA and Jonny D would go on to face Divine Power, the tag team of MONROE and Nic Virtue. Divine Power would induct, capture and defend the AOW Tag Team Championships on three different occasions against MISERA and Jonny D. Following that, MISERA would turn on D and Stark when a Championship Scramble match for the AOW World Heavyweight Championship was announced in which he was one of the first confirmed members, becoming a villain in the process.
MISERA, Jonny D, Zack Blake, Leon Slade and Ace Rose were booked in a Championship Scramble match to determine the first AOW World Champion, which MISERA would win and with that he introduced the AOW World Championship and became its first holder. Ace Rose, who was last pinned by MISERA in the Championship Scramble match, would attack MISERA, resulting in a championship match that was slated a few weeks after the scramble. However, Ace Rose was shortly after released due to unknown reasons.
The next episode of AOW Showtime, Justin Tyme registered interest in a title shot while being undefeated in singles matches since his debut by attacking MISERA. After various confrontations, the two would meet at an AOW live event, where MISERA after being distracted by Alecks Young, who at the time worked as Tyme's on-screen manager, would knock Young off the apron and hit the Black Drive (Corkscrew neckbreaker) to retain the AOW World Championship.
With the rosters of both shows slimming down rapidly, the AOW World Heavyweight Championship and the AOW World Championship would soon be merged into the AOW Undisputed Championship. Just prior to the announcement of the unification Justin Tyme became AOW World Heavyweight Champion, which resulted in another match that was slated between MISERA and Tyme. MISERA came up short in the unification match as he was distracted by Alecks Young once again. During their rematch, Young who was just prior betrayed by Tyme, would appear in MISERA's corner and eventually help him defeat Tyme by distracting him.
With AOW GrandSlam approaching, MONROE would challenge MISERA. MISERA who had just beaten Tyme, would accept the challenge much to the surprise of everyone around, for a regular Showdown main event. Despite coming up short in all of their previous encounters, MISERA would beat MONROE and engage in a beatdown after the match, rendering MONROE unseen for the following weeks to come. During the second to last Showdown episode, MONROE would return with several hooded figures and assault MISERA. The attack continued until a rematch was slated for GrandSlam between MISERA and MONROE. MONROE would defeat MISERA at GrandSlam by making him tap out to an arm-hook sleeper (Anaconda Vice). AOW would close its doors for good soon after.
Training in Japan (2011 – 2013)
FILL
Return to the independent scene (2013 – 2014)
Return to Ring of Chaos
In May 2013, MISERA would return to Ring of Chaos (ROC), which was previously known as GWA. During his return, MISERA attacked Wheeler because he was "still hotly favored by management". This led to MISERA being named number on contender and eventually becoming ROC Television Champion by beating Alex Blair for the vacant title. Shortly after, he beat Alec Rays for the ROC Pure Championship, which was soon billed as "Rays' quickest loss to date". However, MISERA lost both titles shortly after to Kid Swift.
At ROC CyberSlam, MISERA would avenge himself by becoming the first ROC Contract in the Case holder. The next weeks, MISERA would show up during championship matches showing off the case, which would enable him to a championship match whenever he desires. At ROC Vendetta, MISERA was challenged by Black Panther, to make sure he doesn't interfere or cash in during VLK's championship match later that night. However, MISERA would ignore any wrestling tradition during his match with Panther, ultimately tapping him out to a choke hold. After the match, speculations went viral on the internet whether or not MISERA's win was planned or not. Black Panther was out of action for the following 3 months. Later that night, MISERA would cash in his briefcase after Dane Xavier beat VLK for the ROC World Championship, rendering Xavier's title reign the shortest in ROC history with a little under 30 seconds.
On the following episode of ROC Anarchy, MISERA would form the Gods of Serengeti alongside former World Champion VLK and Jonny D. However, the alliance was short-lived when Jonny D was named number 1 contender for MISERA's championship. At ROC Xmas Chaos, Jonny D would beat MISERA for the championship in a ladder match.
Following the lackluster size roster, MISERA would leave the ROC shortly after.
Pro Wrestling Revolution
On September 5, 2013 MISERA would make his debut in Pro Wrestling Revolution during their launch episode. The tag team of N9NE and MISERA would debut in a winning fashion against the tag team of Brandon Delacroix and Alex Diamandis when Delacroix had to tap out to MISERA's "White Akuma" (now called "White Akuma's Pursuit"). Soon after the premiere episode of PWR, the company would release a statement in which they stated that they would stop all of their operations. The company folded soon after.
TIGR Pro
On July 7, 2014 MISERA was announced as part of the TIGR Pro roster after several videos and teaser images showed him locking up with JP Masters. The company however stopped all of its operations as of August 4, 2014.
Kinetic Anglian Professional Organization of Wrestling
FILL
Enter the Vagabond (2014 – 2016)
Travelling with Brent Delivine
FILL
Melbourne Victoria Wrestling
FILL
Fighting World Championships
FILL
Return to Robbie Scott's Gym
FILL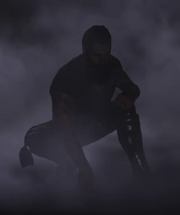 Training in Thailand (2016 – 2017)
FILL
VALOR Wrestling (2017 - present)
On May 12, 2017 the official Twitter account of VALOR Wrestling reported that MISERA had signed with the company and is set to debut at VALOR X against an unknown opponent.
In-wrestling
Finishing moves
Burakku Sunrise α (Vertical drop brainbuster) - 2009–present
Burakku Sunrise γ (Vertical suplex powerbomb) - 2017–present; used rarely
Shing Ink (Running single leg front dropkick) - 2011–2016; used rarely thereafter
White Akuma's Pursuit (Guillotine choke) - 2007–present; used rarely
Signature moves
Dragon sleeper
High knee
Hiza-Juji-Gatame (Kneebar)
Jaga & Kitsune (Diving double foot stomp); adopted from Alex Stryder and Brent Delivine
Juji-Gatame (Cross armbar)
Legend Bomb (Sit-out or running); adopted from Joey Legend - 2001–2015; used rarely thereafter
Multiple kick variations

Abisegiri (Rolling koppu)
Drop
Front
Gamengiri (Jumping high)
Roundhouse; sometimes to the head of a seated, kneeling or rising opponent
Soccer

Multiple suplex variations

Backdrop
Butterfly
German
Half-hatch
Seishin-Plex (Leg hook belly-to-back)

Multiple striking combinations
Owari-Lock (Elevated Boston crab while kneeling/stomping on the opponent's head or neck)
Shotei (Palm thrust)
Sleeper hold
With Brent Delivine
Kegareta Karisuma (Simultaneous diving double foot stomps from opposed turnbuckles)
Nicknames
"The New Retro"
"The Vagabond"
Entrances themes
Championships and accomplishments
Global Wrestling Association

GWA Platinum Championship (1 time)
All Original Wrestling

AOW World Championship (1 time)
AOW Undisputed Championship (1 time)
Ring of Chaos

RoC Television Championship (1 time)
RoC Pure Championship (1 time)
RoC World Heavyweight Championship (1 time)
Professional record
FILL