Jordan Ashba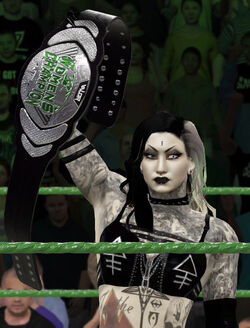 Ashba as VALOR Women's Champion in April 2017
Birth name
Jordanna Alvira Brody
Born
May 4, 1989
Chapel Hill, North Carolina
Resides
Wilmington, North Carolina
Professional wrestling career
Ring name(s)
Jordan Ashba
Ashba
Nox
Height
5 ft 7
Weight
153 lbs
Trained By
Shannon Silveria
Brandon Young
Jacoby Vingence
Ace Whistler
Debut
November 21st, 2008
Jordanna Alvira Brody is an American female professional wrestler currently signed to VALOR Wrestling where she is the current VALOR Women's Champion under the stage name Jordan Ashba. She has been in the wrestling industry since 2008 where she served as an authority figure and manager of former TXW World Heavyweight Champion Jacoby Vingence before becoming a pro-wrestler.
Early Life:
Jordan was born in Chapel Hill, North Carolina on May 4th, 1989 to mother Raine Brody. She has an older brother, Shannon Silveria. She grew up in Graham, North Carolina and was homeschooled since 2nd grade as she was antisocial. Her father left due to being an alcoholic and drug addict, leading to Shannon stepping up and acting as a father figure to Jordan often providing for her. Jordan, Shannon and their mother are very close.
Jordan got into the wrestling business due to her brother at the age of 16 after Shannon started training with their uncle Smash. Her mother would take her to go watch Shannon train every day after she got out of cosmetology school. She asked him to train her though he was hesitant because he did not want her in the business due to possible injuries and the business at the time being cutthroat. Jordan begged her brother to train her until he accepted on the condition that she finish her education to provide a stable future for her. The two trained on and off as he did not fully commit to training her until age 18 after she graduated with a degree in cosmetology.
She worked as a freelance MUA up until age 21 when she debuted on TXW Sacrifice. After the closing of TXW, she opened her own Salon in Wilmington, North Carolina due to the company not making it. She manages it with her mother, however, she was still wrestling on the side. She did small house shows for local wrestling events until the start of VALOR where she is now signed.
Professional Career:
Total Xtreme Wrestling:
to be added
VALOR Wrestling:
After a long hiatus from the ring, on VALOR episode 3 Ashba and her friend Gin Merano were announced as the first signings to VALOR's founding women's division. As a result, the two were booked to be facing each other at VALOR's first pay-per-view IGNITE to determine the promotion's first Women's Champion. At IGNITE, Ashba would defeat Merano in a Falls Count Anywhere match following a Black Sacrament Piledriver through an announce table to become the first Women's Champion. On episode 5, Jordan defeated Hiromi in dominate fashion, attacking her after the match was over. On episode 6, Jordan would decline a rematch with Gin Merano.
Personal Life:
Jordan resides in Wilmington, North Carolina where she owns a Salon and lives alone with her two dogs. She has admitted in an interview she often makes her best friends especially Nathaniel, Ace Whistler and Gin Merano stay with her due to feeling lonely all the time.
She is known for being a horror and macabre enthusiast, as well as a video game enthusiast, seeing as she has a Gears of War tattoo on her right rib and four Elder Scrolls tattoos. She also has the black sacrament tattooed on her lower back.
Jordan has admitted to being an Atheist due to the hardships she and her family have faced in life claiming that praying never helped her or her family. She has also stated that she is a firm believer you don't need god or any organized religion in order to be a good person.
During an interview, Jordan has admitted that she cried backstage after she slapped her brother on TXW Sacrifice during his match with Jacoby Vingence and that still cries every time she sees it due to their strong bond.
Jordan dated Jacoby Vingence off and on for 6 years however she broke up with him in 2015. She then briefly dated Danny Harris during early 2016 and shortly called it quits saying that they should just be friends. She is currently single and has admitted that while being single she has had time to perfect her in-ring ability and work on improving herself.
Jordan is very close friends with Chiyoko Daiki, Ace Whistler, Deion Diamond, Maxwell Verdi, Robin Storm, Brandon Young, Easton Angeles, N9NE, and Brent Delivine.
In Wrestling:
Finishing Moves:

Black Sacrament (Piledriver)
Luden's Echo (Crossface/Scissored Armbar combination)

Signature Moves:

Arm-Trap Neckbreaker
Middle Rope Forearm
Pop-Up Meteora
REDRUM (Shining Wizard)
Rope Hung DDT
Rope Hung Forearm
Slingshot Back Elbow
Straight-Jacket Backstabber
Nicknames:
The Queen of Obscene
The Witch of Wilmywood
The Dark Sovereign
Dame Death
The Mouth of the Abyss
The Eye of the Void
The Deathsinger
The Night Mother
Paleblood
Vileblood
Nox
Wrestlers Managed:
Entrance Music:
"Dominate" by Team Cybergeist (current)
Championships & Other Accomplishments: