Christopher Gabriel Greistoke, born April 8, 1990, is an American professional wrestler exclusively in Grand Prix of Wrestling (GPoW) under the ring name Chris Wolf and actor, for his role in She-Hulk 2 as Captain America.
Early Life
Christopher was born in Portsmouth, Ohio as the son of Roy Lee Greistoke and Juanita Greistoke and raised in Baton Rouge, Louisiana. At a young age lost both his parents while visiting Washington. Despite all the efforts Chris was not able to be found by the police. He was later found but the sad truth was that his biological parents has died. Chris was eventually adopted by the father of his future best friend and brother Jordan Shadows. Chris was shown professional wrestling thanks to his new family and fell in love. As Chris got older he grew more find of wrestling and even joined his high school amateur wrestling team. He watched many movies about football and wrestling that taught him that he could be what ever he wishes and so he decided to become a professional wrestler.
Professional Career
Early Career (2010-2015)
In multiple independent federations, Greistoke wrestled under the name of The Deadly Hardcore Kid where he played a psychopath and wrestled more of a hardcore wrestling style, involving fire, barbed wire and pipes.
Twitch Championship Wrestling (2015-2016)

TCW signed Greistoke who continued his psychotic persona with a twist of adding Satanism to his gimmick and put on a mask and wrestled a lucha Libre style under the name Death. After a few months on a house show, during a tour in Japan, Greistoke defeated Joey Bacon and left TCW for a few months. Greistoke later returned without the mask and new tattoos and began wrestling under Chris Wolf. Wolf brought in the son of his trainer, Jordan Shadows, to team with him and they wrestled as a tag team called The Midnight Wolves. Shadows and Wolf did not get too far as Chris was forced off of TV for personal reasons. He then was injured during a house show after being put into an ankle lock. After the injury Chris was released.
Twitch Championship Wrestling (2017)
Chris Greistoke was resigned to TCW, under the ring name Chris Wolf, after almost an entire year of being out of wrestling with his injury. Between the break, Chris met a young man named Roy Parker who he had help train and get into TCW. Parker and Wolf had teamed up as a tag team within the group 8180, led by Jordan Shadows. As of May 13, 2017, Chris Wolf was moved to Evolution with fellow 8180 members Roy Parker, Amy, and Saraya Sin.
Universal World Wrestling (2017)
On May 28, 2017 Chris Wolf debuted on the UWW pay per view Rumble in the O2.
Filmography
Greistoke played a role as Captain America in the blockbuster hit She-Hulk 2 and has been quotes of saying "This movie has been a bunch of fun and I hope to have another film role in the future."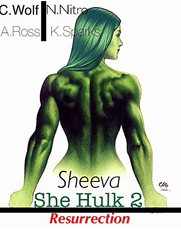 Personal Life
Greistoke was dating Amelia McCarthy, better known as TCW Bombshell Amy, and has his adopted son of Derrick Greistoke who is age 12. Jordan Shadows unknowingly introduced Chris to his little sister, Emily, that he had no recollection of.
In Wrestling
The Deadly Hardcore Kid
*Finishing Moves **Death From Above **Death Drop
*Signature Moves **Diving Elbow from top rope to the outside
Death
*Finishing Moves **Deadly Dive
*Signature Moves **Death Plunge
Chris Wolf
*Finishing Moves **Howling of the Wolves 2015-Present
**Cajun Death Drop 2017-Present
**The Wolf Bite 1.0 2015-2016
*Signature Moves
**Shadow Bomb 2015-2016
**Hype Bomb 2015-2016
**The Wolf Bite 2.0 2017-Present **Midnight Strike 2017-Present
**Pack Attack 2017-Present
Managers
*Joshua Shadows
*Jordan Shadows
Managed
*Roy Parker
Nicknames
*"The Psycho" (TDHK)
*"The Hype" (Chris Wolf)
*"Satan's Angel" (Death)
Theme Songs
*"115" by Elena Siegman
*With Roy Parker "Indestructable" by Disturbed
Previous themes
*"Born Of The Night" by Midnight Syndicate
*"My Demons" by Starset
*"Nightmare" by Avenged Sevenfold
*Midnight Wolves "Your Betrayal" by Bullet for My Valentine
*"Do It Again" by Dharmata
Partners
*Jordan Shadows
*Joshua Shadows
*Roy Parker
*Cody Chambers
*Trevor Hawkins
*Kendall Jenkins
Championships and Accomplishments
*Heritage Classic Wrestling
**HCW Mafia Championship (5 times)
*Twitch Championship Wrestling
**TCW Xtreme Television Championship (1 time)