The CTO Pride Championship is a championship created by Aaron Bomber to represent the Heart & Soul of WRP. This title was later inherited by CTO during the merger between CTO and WRP.
History
Origin
The Title was created by Aaron Bomber to signify the Pride of WRP as a company. The holder would represent everything the company stood for in terms of giving everything it takes to become a true champion.
Championship disputes
Harris v. Storm
There was only on title match held between Danny Harris and Kevan Storm. Harris took revenge on storm for being one of the men to injure him earlier in the year.
Championship belt designs
The Original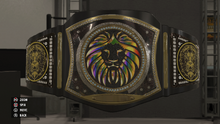 This is the WRP Pride Championship that was presented to the public and won by Danny Harris.It's design was to reflect having the pride of a lion overlooking his territory and some state that this title completely embodies.
Reigns
Danny Harris is the first and only WRP Pride Champion as the company merged with CTO on September 7, 2016 causing the Pride Championship to be retired.
CTO
Aaron Bomber announced on Voltage Ep. 2, Christopher Scarlet and Eric Rivera will go one on one at Slam Impact II to crown the first ever, CTO Pride Champion.
Ad blocker interference detected!
Wikia is a free-to-use site that makes money from advertising. We have a modified experience for viewers using ad blockers

Wikia is not accessible if you've made further modifications. Remove the custom ad blocker rule(s) and the page will load as expected.